Jogue jogos de tabuleiro online !
Jogue jogos de tabuleiro online no seu browser
Login
Registe-se agora - é grátis!
Very soon, a new small and well known game on BGA.

Which one? Have a guess!

Clue: "4.6029".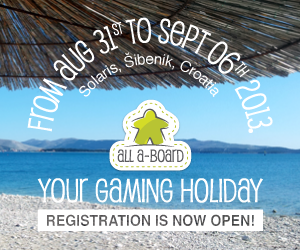 One of the developers taking part in
BGA Studio
is part of a team organizing a one week holiday/boardgame festival at the end of the summer, and asked us if we coud make a small annoucement about it. Here is an extract of their presentation for the event:
"All A-Board Game Festival is envisioned as a 'gaming holiday', an annual get-together for board gamers (and their non-gaming friends and family), featuring open gaming halls, tutorials, workshops, theme nights, tournaments – and above all – a fun and friendly gaming atmosphere.

We hope to see you there, and we will try to ensure that your experience matches our 'Sea, sun and meeples' guideline."
This festival will take place in Šibenik, Croatia from August 31st till September 6th.
If you are interested, you can read
the full presentation
(PDF) or directly take a look at
the event's website
.
Board Game Arena is now available in
Slovak
. Congratulations on their work and a big
thank you
to all Slovak translators!
This is the
20th language
available on BGA, which is pretty awesome! Thanks to everyone contributing to create and maintain translations.
The following languages are also open for translation, and need some more translators (at least 80% of the 'main site' module must be translated before we make the translation available):
Bulgarian, Indonesian, Czech, Estonian, Japanese, Finnish, Korean, Lithuanian
. If you are fluent in one of these languages, please contribute!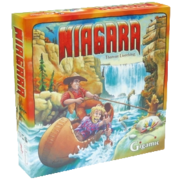 Board Game Arena and
Zoch Verlag
are happy and proud to propose you to discover
Niagara
, a game from
Thomas Liesching
.
Niagara
is a beautiful game where you have to collect jewels using canoes along a dangerous river. To find jewels, you have to go down the river, and then get back to the dock. But if you are too greedy, or if your opponents decide to suddenly change the speed of the river, your canoes will go over the waterfalls... To win, you need to be the first to collect 7 gems, or 5 gems with different colors, or 4 gems of the same color. Looks simple? Well, jump into your canoe and let's see what happens
Niagara won the most famous game prize the
Spiel des Jahres
in 2005.
Board Game Arena would like to thank
Zoch Verlag
for this adaptation!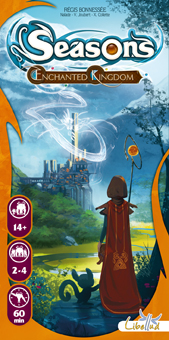 Your attention please: I'm talking to you, yes YOU, who love this fantastic game called "
Seasons
". For you, this summer will be hot, because this summer the first expansion of Seasons will be released: "
Enchanted Kingdom
".
And what an expansion: 2x20 new power cards, but that's not all: the designer introduced a set of new magical stuff that makes "Wizz", and I won't say anything more because I swear on the Bespelled Grimoire to keep my mouth shut.
That's for this summer. But this is Spring. So the publisher summons Temporal Boots to bring back 5 power cards from "Enchanted Kingdom" from the future, and
make them available on Board Game Arena
: Heart of Argos, Horn of Plenty, Familiar Catcher, Amulet of Time and Ratty Nightshade. To play with this new cards, you just have to select "Archmage + Enchanted Kingdom" as your difficulty level.
Thank you
Libellud
for this extension. And to get the last news about Enchanted Kingdom,
I suggest you to go there
.
Let the Magic play!
Junte-se a nós no Facebook
Jogadores com mais prestígio
Últimos resultados